June 17, 2005
April 07, 2005
November 05, 2004
August 25, 2004
August 17, 2004
The Western Front
And so the first official Stay Gold Pony Boy tour came to pass . . . and it was GREAT!! Here is a semi-exhaustive, partially ecstatic, and entirely accurate account of the our travels up the western coast to spread meyhem and rock and roll to the unsuspecting masses. In short, WE HAD A BLAST!!!
Merch
The week before tour saw the golden pony furiously creating merchandise in a bid for your heart and the wallet that its attached to. Merch is where you make your money touring and so we spent the week leading up to tour furiously silk screening new SGPB shirts (with a new design) while also completing our limited edition tour EP "It Hangs Above You" which includes 6 songs from our upcoming record.

Sat, Aug 31st - FFF, Oakland - TOGA PARTY!
We began our voyage as all adventures begin: at home surrounded by friends. Our favorite venue in Oakland, the French Fry Factory, was kind enough to let us throw a special event - a !TOGA! party. We set-up and waited for the togas to roll in. Slowly but surely they came and all the bands were good sports about leading the way. I mean, if the band don't toga - then nobody is gonna toga!!
First up was Chutner Khan - I think someone took the brown acid . . . like someone put me in a time machine to 1969. A fitting entrance to the insanity of the evening.
Next up, you know how -> Da Bad Man, Pony Boy. SGPB took the stage and proceeded to do things in Togas that have, perhaps, never been done. Some of the highlights were watching a perplexed audience digest our newest song "Lady Nowhere", your very own PFT berating the audience for not wearing Togas, and an amazing display of psychic powers.
The Punks were up next. These guys came all the way from Olympia to spread the love and love they spread to a simultaneously entranced and confused audience. John Cage meets Samuel Beckett in the music section of Toys'R'Us. Exactly.
and then . . . The Mae Shi. If SGPB ever picks another name, it should be "WE LOVE THE MAE SHI". Now The Mae Shi are our good friends, but they are an amazing band and we'd love them even if we didn't. This was an extra-special show because their amazing record Terrorbird had just been released on 5RC that week and this was their unofficial record release party. They took the stage. The Byron Bros donned Transformer Sheet Togas while Ezra sported a zipdown flight suit complete with helmet and then, as if to up the ante, brad suddenly showed his butt. TOGA PARTY INDEED!! The Mae Shi then proceeded to tear down the house as only they can. Their set kicked ass and sounded great, one of the best times I've seen them.
to end the night, The Coachwhips began blasting from the other side of the room. I had to retreat to the sidelines to avoid getting my eyes poked out by the hordes of bouncing girls with spiky hair that attacked the stage. That John Dwyer guy is soooooooooo dreamy!! but man, can they rock!!! A locomotive of blues noise insanity heading straight for your jugular. Aside from the music, my favorite part was watching the carefully stacked empty beercan pyramid, built atop the amps, gradually tumble as the set went on.
. . . and so we bid our home and friends farewell for the open road.
The Road to Portland - Aug 1-3rd
After putting it down in the studio Sunday evening, we made our way to a safe haven in Weaverville arranged for us by the Homeland Security Department. It was nice to breath that mountain air and sleep in a realy bed. Upon waking up we were shocked to discover the following headling in the local paper:
"Possible Ban on Genetic Things"
Being genetic things, we were a bit worried - were we to be banned on our maiden voyage!?! Were my corduroy jeans, genes? Could I simply wear sweat pants and avoid the debacle? A perplexed Pony Boy hit the road and headed north after the first of many a chicken fried steak.
Monday night, we arrived in Portland at the home of our dear friends Jeremy and Desia. Expecting a simply floor to call our own, we were given a spacious attic filled with instruments, computers, and basically all the things we treasure.
Tuesday we spent leisurely walking around downtown Portland taking in the great sea port. We then were treated to one of Denton's patented meatfests. When I have a heart attack at age 30, please tell my mother it was Denton's fault.

Wed, Aug 4th - Manium Wherehouse, Olympia
We woke up Wednesday and made our way to Olympia. We arrived at the Calliope complex which is an amazing piece of land upon which a few houses are built and a wonderful assortment of fruits, vegetables, and animals are grown. A pretty inspiring communal situation full of people who welcomed us with open arms. Our friend Nathan, from the awesome band Wolves In The Throne Room, lived there and arranged our show - as well as the boys from Bee's Knees (check our upcoming shows with them!!). After meeting everyone and relaxing a little bit, we heads to downtown Olympia.
It just so happened our homies The Mae Shi were playing a house party down the street and so we grabbed some food with them and roamed the streets having a jolly old time. It was nice to be in a new place with old friends.
We returned to the Manium Wherehouse and met its owner, Dwayne The Dark Dentist. Dwayne is a Dentist in Olympia. He is also a goth. He also owns properties in Olympia and paints them black. It turned out that this was the first show evAr at the Manium Wherehouse which he owned. We were very excited to not only play it, but meet this local celebrity. Props also to Nathan and the boys for really transforming that room in a matter of minutes into an awesome space!!!
First up were Bee's Knee's. In fact, it was their record release party and it was very gracious of them to go on first!! They rocked and surpised everyone with their tight noise-pop stylings. God I hate trying to describe music, but I liked Denton's "Noiserock by way of Hüsker Dü and the Minutemen" description. good stuff !!!
It was then time for the Pony Boy. Being our first show on tour, we didn't know what to expect. Would they hate us? Would they be indifferent? Could we still play in the Pacific Northwest . . . I am happy to say that we brought the rock and they drank gladly from our chalice! I think I scared a few people during my serenade but we won them over.
Next was Oly's own Empire of Man. Pure, unadulterated, Power (Trio) Pop and I mean that in the best of ways. I was bopping my head with the kids and digging the tunes. A tight rhythm section and catchy songs. Good stuff.
Ending the night was Bacchus and all I could say is *WOW*. They were heavy and tight just like one of Denton's burgers. Yet another trio & these guys sounded like an army of 1,000 men. Super heavy and insanely tight AmRep-ish thunder. Like if Helmet smoked a bong load and didn't shower for a week. We fancy ourselves pretty heavy, but these guys took the prize that night. You'll be seeing more of them.
And so the first show went magnificently. Some great bands, great sets, new friends, and Dwayne the Dark Dentist even bought one of our CDs!!! Olympia rocks!
Thurs., Aug 5th - Grand Cen (I mean) Meow Meow, Portland, OR
Now this was a dooozie (or should I say douche). Long story short, our Portland show had a last minute venue change from Grand Central Bowl to the Meow Meow. Big thanks go out to AmyV and Malati for at least making sure we had a show in Portland. Everything was set for a great show with The Mae Shi, The Punks, and Channels 3 & 4 from B.C.
We arrived at the venue and hung out with the bands while conspiring how to make the best of the situation. Buck Wilde, technical wizard, helped fix the Mae Shi Van while we considered spray painting directions to the venue on the bowling alley that had scorned us.
The Punks opened up which included The Mae Shi's Ezra on bass while Tim got his haircut. I screamed mohawk, but he just got a tony hawk. Some stragglers had come in and The Punks ended with a rousing chant.
Now, the plan was that we were on next followed by The Mae Shi. Not many had shown up for the show, except some friends (including groupie #1 Heather who had flown up - GO HEATHER!!!), and so we asked The Mae Shi if they wanted to do a "versus set". Whats a versus set? It means we play one song, then they play one song.
So we set up all the amps on stage and us drummers jumped on and off the kit every other tune and we had the rare honor to play a versus set with the mae shi. Much like a Hawaiian Pizza, a strange yet tantalizing combination. Some people liked it, others would have prefered we played seperate sets - but I thought it was a pretty rad once in a lifetime thing that made the best of a potentially disastrous show.
Last up were Channels 3 & 4 from B.C. New Wavey dance-punk sans guitar w/keyboard arpegiating insanity. They ended the night on a high energy note and we pow-wow'd after the show to lick our wounds and look towards the sold out shows that await us.
Despite the screw-up with the venue and resulting poor attendance, there was still a lot of love from the bands. Plus our friends got to finally see us live, particularly Jer and Desia who had put us up for the week. All in all, we made the best of the inevitable "not so good" show which rears its ugly head from time to time. We'll get ya next time Portland!
Fri, Aug 6th -2nd Ave. Pizza, Seattle, WA
We woke up and drove to Seattle. What a cool city!! We were on the tail end of our travels and regretted not being able to spend more time in the fair city of Seattle. We did get to walk down to the ocean and walk around in the rain. Very nice.
2nd Ave. Pizza is a cool joint. A pizza place with a venue in the back. Most importantly, its an all ages venue which is our favorite kind! This show was arranged by our friends Gods Among Men and it was a great line-up with a good turn out. The kids were there in force from the get go and we sold lots of merch.
First up were our friends Caesura. They were a last minute add, but we were happy to see some familiar faces. They turned in a great set and it was nice to see a good turn out early in the evening. Next up were Archeopteryx, also from the Bay. We'd met them before, 2 really nice funny sort of shy kids. They took the stage and just ripped it up with their brand of insane prog screamo guitar/drum (ala hella or lightning bolt). Wow, you seemed like such nice guys!! Who taught you this dirty rock and roll!!!! They were awesome, in fact i've been listening to their cd which rules.
Next up where Gods Among Men. Now I've only seen them once, and a member was sick during that time, but they really seemed to turn it up a notch. They had a new viola player who rocked (viola + grind? they pulled it off!) and the crowd seemed super into them. I thought they had a great set and everyone seemed to agree.
And so SGPB straddled the stage. Earlier that evening, band friend and confidant Diego Snake made an emergency call to the Gold Phone to alert us that one of our finest bass players, sexual deviants, and inspirations for SGPB compositions passed away that night. I am speaking of the late great Rick James. And so it was a special night as we were able to dedicate "Rick James Hostage Crisis" to the superfreak.
So we got down as only we can and the audience went wild. It was great to see a bunch of strangers not only understand what we were doing, but actually like it - who woulda thought!?! We turned in a great set and immediately sold the most merch we had sold all tour. A triumph.
Ending the night was, Lesbian. The only thing better than their name was their music. SUPER HEAVY DOUBLE BASS PLAYER SLUDGE. These guys' sound was insane. Walls of amps. One of the bass amps was glowing red like E.T.'s chest. I was having total Electric Wizard flashbacks and these guys just brought the raw insane power. Great stuff and a way to tie up all the diverse acts on the bill.
Between you and I, this was the best show we played outside of the Bay. We were lucky: all the bands were great for all the shows. What made this one stand out were all the kids that came out, supported us, and bought merch. It was the perfect last show as we not only made enough money to pay for gas on the way back, but it reminded us why you go on tour in the first place. Seattle - YOU RULE!!
. . . and so we thanked everyone, packed up, and made our way to the lovely Bay Area. We had paid for gas and stayed at friend's places for free and so we returned triumphant in our book. Even more importantly, we made tons of new friends, heard lots of new music, and were able to spread the SGPB gospel. One small drive for man, one giant leap for Stay Gold Pony Boy.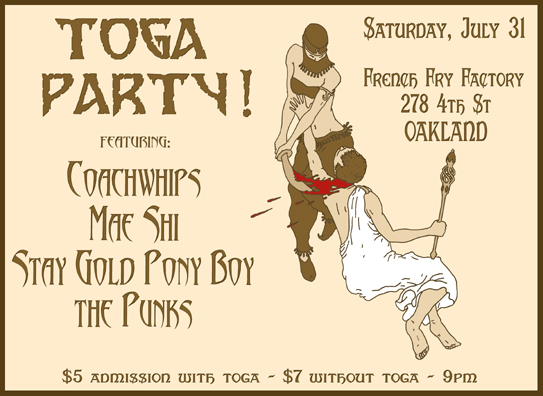 His Highness, Lord PFT Speaketh @
02:04 PM
June 29, 2004
June 15, 2004
May 22, 2004
April 19, 2004
March 08, 2004
February 03, 2004
September 27, 2003
September 18, 2003
August 23, 2003
July 10, 2003
May 16, 2003
April 12, 2003